My Honey Hill Books
Honey Hill  is a preschool world, featuring six appealing animal characters, five of whom are preschoolers and the sixth is their teacher. Honey Hill was developed by editors, designers and marketers at Macmillan, including myself, as a setting for a new series of books and products targeted to preschool children.
Honey Hill Pops:
Jack
Oscar & Olivia
Lucy
Rafi
These were the books that the series was launched with. Casebound books with pop-ups on every spread.
Honey Hill Busy Day!
A shaped board book with flaps to lift
Honey Hill Wipe-Clean Books:
Wipe-Clean Colours
Wipe-Clean Counting
Wipe-Clean Shapes
Wipe-Clean Numbers
Chunky board books with coloured chalks and fun interactive activities on each spread.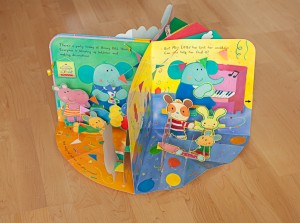 Honey Hill Pop-Up Party Time!
A pop-up carousel book with pull-tabs and play pieces.
Honey Hill Spinners:
Rain or Shine
Fancy Dress Fun
Hide-and-Seek
Dance Show
Die-cut board books with changing-picture spinners on each book.