Latest News
Watch this space for updates and news on my latest projects!
August 2012
You might have been wondering about the lack of recent updates! It's been an eventful year for me so far. My biggest project has been my baby girl, who was born at the beginning of the year, who has been keeping me on my toes since her arrival. There have also been some other interesting developments on the work front. My story, "Zebra's Fun Day" was featured in an episode of the BBC/PBS show, "Driver Dan's Story Train". Another top secret project that I worked on at the end of last year is just about to be published. Watch this space for more details!
September 2011
The new name for the "Hurry with the Curry!" iPhone app is "Indian Menu Translator." Everyone loved the original name, but after some queries asking about recipes, I decided that I needed to have a name that described the app more clearly!
Also, due to popular demand, I am working on a food blog, associated with the app, which will include recipes, restaurant recommendations and useful links! The blog is called "Hurry with the Curry!" and can be found at www.hurrywiththecurry.com
April 2010
I just discovered that education.com have published five more of my activities over the past few months! You can find a list of all twenty-six activities, along with links to the pages on education.com, here. Enjoy!
March 2010
I have been busily working away the past couple of months on a few new projects. One may feature in an episode of a children's television show that will be televised in the UK and in the US! Watch this space for further updates later in the year!
January 2010
My Hurry with the Curry! iPhone/iPad app has just been published! It is an app guide to Indian restaurant dining. It's a great reference tool for Indian food newbies and those who want to be more adventurous when they dine out. Read more about it here!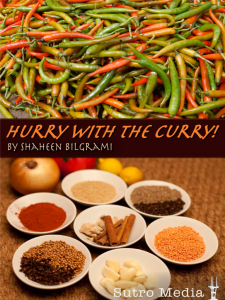 December 2010
My Hurry with the Curry! app is almost completed! I am just hunting down the last few photos. Watch this space for the publication date and a link to the app on the iTunes store!
July 2010
I taught a 4-session workshop titled, Curious Creatures and Magical Monsters, to a group of ten children aged 8-12 years at 826 Valencia. The children wrote wonderful and creative stories including, Elisa and the Magic Jellybean, Sully Learns to Share, Bugsy has no Friends and The Friends.
April 14, 2010
Education.com have published a second lot of my children's activities on their wonderful website. There are links to all the activities I have done for them here! The latest activities are marked *NEW*!
August 2010
I am currently writing content for a smartphone app for adults! I am hoping that it will be published before the end of the year! Watch this space for more details!
April 5, 2010
APRIL SPOTLIGHT: AMAZING DINOSAUR DISCOVERY
This book has been in print since it was first published back in 2002. It is a wonderful title to share with children aged 3-10 years!
Check out these reviews:
Publishers Weekly:

Older readers will appreciate two Magic Color Skeleton Books, for which acetate panels activated by pull-tabs transform skeletons to full-color creatures, while graphically hip scrapbooks convey the facts: Incredible Animal Discovery and Amazing Dinosaur Discovery by Shaheen Bilgrami, illus. by Treve Tamblin and Mike Phillips. In the first, Sally and friends Joe and Ben at the Natural History Museum; the second features Tom at the Dinosaur Museum with his dad. (July)
Copyright 2002 Reed Business Information, Inc.
–This text refers to an alternate Hardcover edition.
Booklist:
Reviewed with Shaheen Bilgrami's Incredible Animal Discovery.
PreS.-Gr. 3 These two interactive picture books from the Magic Skeleton series offer stories of museum visits as a way of introducing different animals and their skeletons. In Amazing Dinosaur, Tom and his father visit the Dinosaur Museum. As they view the skeletons, the boy consults his scrapbook, which contains facts and pictures of different species. The main text carries a narrative account of the trip to the museum, enlivened by cartoon balloons carrying the comments of museum visitors, including Tom. Pages from Tom's scrapbook provide a highly accessible source of information about the dinosaurs under discussion: apatosaurus, stegosaurus, tyrannosaurus rex, corythosaurus, and triceratops. Similarly, Incredible Animal begins with three children and their parents visiting a museum exhibit of animal skeletons. While her brothers and parents comment on the displays, Sally frequently opens her animal-information scrapbook, which provides interesting factoids about the animals they see in skeletal form: whale, snake, eagle, crocodile, and elephant. In both books, the cartoon-style ink drawings, washed with bright colors, are enhanced by the addition of a pull-tab feature on the outside edge of the right-hand pages. The center of the page features a clear plastic sheet bearing an ink drawing of a skeleton on display. When the child pulls the tab, the picture of the skeleton slides outward. Beneath the transparent drawing of bones emerges a painting of the dinosaur as it might have appeared in life, complete with a background scene. This clever (and relatively sturdy) sliding-picture feature seems like magic, adding a playful element to the books' appeal. Carolyn Phelan
Copyright © American Library Association. All rights reserved
Easter, 2010
SPOTTED:
I spotted an Easter display in the children's section of BORDERS earlier this week and right in the middle of the display were two of my books – Clackety-Clacks Bunny and Clackety-Clacks Duck!